NOW YOU CAN MAKE YOUR CAR TO BE COOLED IN HOT SUN WITHOUT EVEN SWITHCHING ON YOUR AC
Auto Cool Solar Ventilation System
Regular price

N25,000
PROMO PRICE

N12,000



⭐⭐⭐⭐⭐4.8 (598 reviews)
Auto Cool™ is a car vent that eliminates scorching heat build-up in your car! The auto cool vent is a solar-powered ventilator that automatically expels hot air from your parked car, so it's not a furnace when you return. The Auto Cool™ solar-powered car vent helps minimize pet and tobacco odors, too. The auto cool fan runs on the sun's power – no electricity or batteries needed! The vent installs in seconds on windows of all vehicle makes and models.
WHY DO YOU REALLY NEED TO GET THIS AMAZING DEVICE...

Park your car under the sun for a few minutes...Come back to drive off and its hot...extremely hot to the touch. You can barely sit down on it.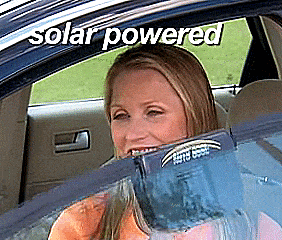 Get Your AUTO COOL At A 50% Discount Today
Auto Cool Features:
Fits any car window

Blows hot air out of parked car

Solar powered - need no batteries

NOTE: Auto Cool does not work in cars with tinted windows
With Auto Cool Solar Powered Fan As Seen On TV even on the hottest days, your parked car is kept cooler and the air fresher thanks to this solar-powered vent fan. Auto cool does not work on tinted windows. It maintains a safe, comfortable temperature level for your return. Place Autocool vent on top of window, then close window and lock up. It's solar panel uses sunlight - not the car's electrical wiring or batteries - to power the built-in fan.
Fresh air is drawn in as hot, stale air vents out. Autocool even helps to eliminate pet and tobacco odors. Auto Cool Installs in seconds and fits windows on all makes and models. As a Free Bonus, you'll get a handy organizer that fits in your car's cup holder.
The Auto Cool is a product that has been designed to help cool your car down while it sits in the sun waiting for you. That way when you jump into the car it will not blast your with hot air the minute you sit down.

Auto Cool features a solar panel that absorbs sunlight and converts it into energy to power built in fan unit. This fan will constantly blow out all that hot air that accumulates in your car as it sits in the sun.

Simply place the Auto Cool on the top edge of your window. Roll down the window facing the sun, put the Auto Cool into place, roll up your window and you're done!

What is best, is that the Auto Cool does not require any batteries since it is solar powered, so it is better on the environment and better on your wallet!

So, do not fear melting in your car again. No more steering wheels and shift knobs that are too hot to touch-- no more unbearably hot leather or vinyl upholestry!
HERE'S HOW THE AUTO COOL WORKS:
There's a solar panel on the unit that, when activated by the sun, starts a fan that circulates the air in your vehicle.
In theory, it should keep the air cooler than it otherwise would be.
Here's how you install it:
The Auto Cool has a slot where your window slides in. You're supposed to have this thing facing the sun so it activates the fan inside.
You also get some weather stripping to make sure there's a perfect seal along the glass or the window you put it in. Normally, I would put this in a back window so I wouldn't have to do this every time I got in or out of the car, but for the purposes of this report, we're doing it this way.
How Much Does The Auto Cool Cost?
NORMAL PRICE

N25,000

PAY N12,000 TODAY
Monday, January 18th, 2021
IMPORTANT NOTICE: PLEASE DON'T PLACE YOUR ORDER IF
You are not ready to Buy

You won't be around within the next 1-5 business days

You will be traveling within the next 1-5 business days.

If the cash is not readily available
IF YOU ARE READY TO BUY AT

N12,000

FILL THE FORM TO PLACE YOUR ORDER
PLEASE ALSO TAKE NOTE THAT
Please Note That We are making this Payment on Delivery based on trust. Please be sure you are FULLY ready for this product(s) and the money to pay at the point of delivery is available before you placed order.
Cases Like: I don't have money, I travelled, I was just joking with the order and many other unreasonable excuses are heart-breaking and unfair. We use money to send the product via courier company.
Thanks for your corporation, you can proceed to place order if you are FULLY ready for it.
We Have Got You Covered With Excellent Customer-Focused Services.
NOTE: THE PRICE GOES BACK TO

N25,000

IN ...
GOT QUESTIONS?

CALL

/

WHATSAPP

08029497963